This week I had a project in which the client wanted to change all the door knobs and hinges in the house. This amounted to 25 door knobs in all and 3 hinges per door.
Why?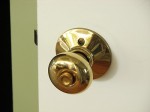 It was time to update from the dated gold knobs and hinges (yuck!) to a oil rubbed bronze look (very nice!).
Believe it or not, there are some things to know when choosing door knobs.
First, choose the finish. There are really only a few choices. Gold (if you wish), chrome, brushed nickel, or oil-rubbed bronze. I prefer the brushed nickel or oil-rubbed bronze. The brushed nickel hides wear and tear very well. And the oil-rubbed bronze just looks amazing.
This is what I see the most in homes that update their hardware. The only problem with it is that a scratch or extreme wear-and-tear will in fact remove the finish revealing a goldish brass color underneath.

Second, you'll need to choose the style. There is the standard round knob, the oval, and the lever. Many people seem to gravitate toward the lever style. It seems to add a little class to their updating. Or perhaps it just does something a little different from the old round knobs they've always had. But beware.
Lever knobs are very easy for young children to work. In fact, I have even seen some cats and dogs manage to open doors with lever knobs. So if you have rooms that you don't want kids to go in (and who aren't quite old enough to understand 'no' yet), don't use these.
If you are trying to get away from the same old round knob, the oval style is an excellent choice. It looks good and adds a little pizazz. But you can't go wrong with the standard round knob in a nice finish.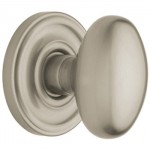 Third, choose the brand. This really comes down to budget, because it can really add up. For this job, the client chose Kwikset. I like them. I've worked with them for many years and have never been disappointed. They offer the Smartkey feature for keyed doors as well. This is an amazing option. It offers the average homeowner the option to change the key to any door in a matter of 20 seconds.
So if you lost the keys, need someone to house sit but are worried they might copy the key, have a new renter, or have had a relationship go bad, just change the key, change it back, or get an all new one and start fresh. There's no calling a locksmith or bringing 3 deadbolts to the store to get re-keyed (and paying for each one). Plus, if you want to step up the style in the entry door you can get a Baldwin, which owns Kwikset. This means the Smartkey works interchangeably.
No, you're not as dumb as a doorknob, but you have three things to decide: finish, style, and brand.
Updating your home can improve the quality of your life. Enjoy!
>>>
*More tips to come soon!