Most kitchens have a dining area, but much of the time it cuts the kitchen in half. This can disrupt the feeling and flow of the area, as well as limit the usable space for families.
A wonderful addition to kitchens with this challenge is the Breakfast Nook Booth (or bench).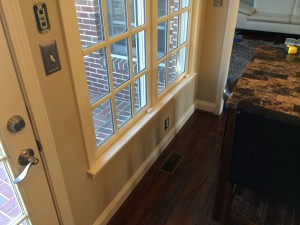 As you can (sort of) see in the picture, the family had a table in this area. Although I did not take a shot of the entire room, be assured it completely cut the space in half. Walking around or by it was cumbersome. If anyone was carrying something, it hit the table.
The solution I crafted (see below) was the built-in Breakfast Nook Booth. It features seating for 3-4, as well as an electric outlet for kids using tech devices (iPads, laptops, tablets, etc.) for play or homework. You'll notice I also redirected an existing HVAC vent in the kitchen floor. This was no problem. I simply centered it on the lower front of the unit. It is out of site and tasteful.
The Breakfast Nook Both can add space and seating to nearly any kitchen. It can be built in many sizes, any color, or several styles (L-shaped or a modified U-shape, for example). I am excited to bring this custom solution to your home.
*Please be sure to see my other designs: Decorative Barn Door, Old Barn Wood Table, Barn Wood Wall, Triple Bunk Bed, Basement Bunk Bed, and Custom Loft Bed.
>>>