Recently, a client contacted me to build her teenage daughter a wonderful back-to-school gift. She wanted to give her a beautiful custom loft bed, which I was more than happy to provide. Her response at the results?
"The custom built loft bed is really beautiful! It fits in my daughter's bedroom very well. I especially love the bead board and cork board. You always do a top-notch job." -Rachel D., Milton, GA
Pictured here is that Custom Loft Bed. It f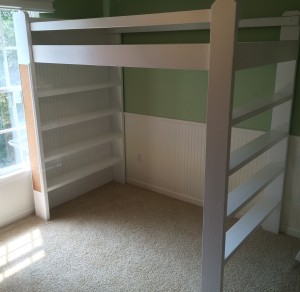 eatures shelves with a beadboard/wainscoting backing for a nice added custom feature. I also added a small cork board on the side so she can pin her hopes and dreams there (or whatever teenage girls do).
Although the client requested white, this can be finished in any color or finish.
Please contact me here if you have any questions. I would LOVE to build these for you. I have also included additional pictures below.
*Please be sure to see my other designs: Decorative Barn Door, Old Barn Wood Table, Barn Wood Wall, Breakfast Nook Booth, Triple Bunk Bed, and Basement Bunk Bed.
>>>