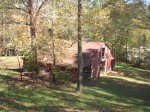 We used to have this amazing old, red barn in our backyard. We loved it. It added a nice rich country feel to our yard.
Our kids loved it. They played in it and scaled the outside at their own risk. As much as I tried, I just couldn't keep them off of it.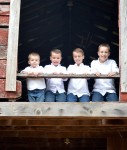 Friends loved it and commented on how much they wanted one behind their own homes.
Strangers loved it. They took pictures in front of it and added instant charm to their family photos (like we did with our boys here).
There was just once problem…
The old red barn was falling apart. It was one big vintage death trap. So I had to tear it down.
Don't worry, there's a happy ending in this story.
I saved some of the wood. I had to. Years before (many years before) I promised to build my wife a giant barn wood dining room table.
So I did!
Here is the Barn Wood Table I built from the 70+ year old oak wood from our old red barn. It is a full 7 ft. X 4 ft. That means it can easily accommodate 10 people without any clumsy leaf inserts, while still fitting nicely in our limited space. Although I am not a professional photographer, this picture still conveys the uniqueness and beauty of this piece of furniture. I should mention I plan on adding an old barn wood bench when I have the time. This is also something I can do for you.
The old Barn Wood Table is a wonderful custom addition to any dining room. I would LOVE to build one for your home. Also, it can be finished in any tone or stain. Please contact me here with any questions. I have also included some pictures below of the progress. I hope to hear from you soon.
*Please be sure to see my other designs: Decorative Barn Door, Barn Wood Wall, Breakfast Nook Booth, Triple Bunk Bed, Basement Bunk Bed, and Custom Loft Bed.
>>>