Recently, I tackled a range of to-do items (aka, a Honey-Do List) for a client. I changed a fan, fixed an exterior security light, repaired a bifold door for the pantry, and installed a new kitchen faucet and drain. I even hooked up a CatGenie litter box system.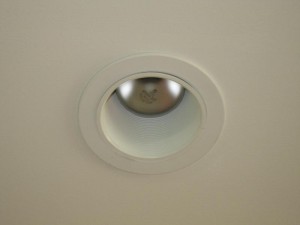 The client also had a bunch of recessed lights in her kitchen and wanted something different. She wanted to change the one above the kitchen sink into a pendant light in order to create interest and improve the task lighting.
Normally, this would be a costly and extensive process. It would involve removing the recessed light, installing an electrical box, repairing the drywall, painting, and then installing the pendant light.
But not any more. Now there is a recessed lighting conversion kit that is very nice and simple to install.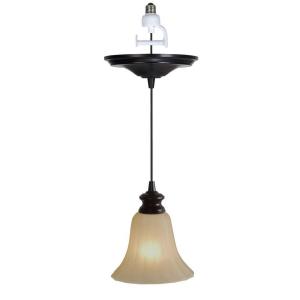 Pictured here is one such pendant conversion kit and the average homeowner could install it. The basic steps are:
1) Remove the trim of the recessed light. In the picture at the top, this is the white portion that frames out the light.
2) Remove the bulb in the recessed light.
3) Screw in the conversion kit's socket adapter. See the second picture here.
4) Wrap pendant light wire around socket adapter bar until the light hangs at the height you want.
5) Push decorative cover plate snug against ceiling.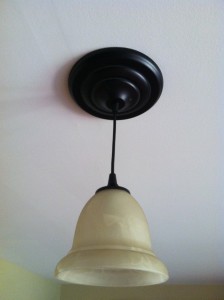 And that's it!
This final picture is the one I installed on the job. In a matter of minutes it was converted over. The client wanted them to hang a bit higher than my taste, but it still looked great.
Converting a recessed light into a decorative pendant light is simple and cost effective. Plus, there many design options based on your personal style and taste.
I hope this tip will help save the day!
>>>