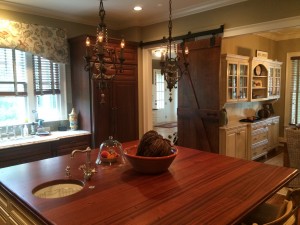 I have a client with a beautiful kitchen, but she discovered it had one major issue.
The problem?
She was preparing to host an important function at the home for international business associates of her husband's. I was there updating some things around the house while I overheard a conversation with the designer. The large multi-function utility room connected to their beautiful kitchen all-of-a-sudden stood out as a BIG eyesore. This is when I respectfully presented my recommendation.
My solution was a decorative Barn Door to separate the areas.
They loved it! I was thrilled because I love custom projects. And they were excited to have a solution that combined charm, beauty, and function in a way that fit their design desires. Highlighted below is the Decorative Barn Door I made for this client. It is a one-of-a-kind vintage accent that can be added to nearly any room. It can be made in virtually any size with any tone, finish, or stain.
*Please be sure to see my other designs: Old Barn Wood Table, Barn Wood Wall, Breakfast Nook Booth, Triple Bunk Bed, Basement Bunk Bed, and Custom Loft Bed.
>>>